Current Obsession: Falsies
Anyone that knows me knows that I love a reliable lash. Whether it be dramatic or somewhat natural, I'm a sucker for them. I know I'm not the only one that feels as though my look isn't complete without them. Let me see a show of hands, or just hit the heart button below if you agree. They are usually the last thing I apply before I head out because I don't want to mess up on the rest of my face.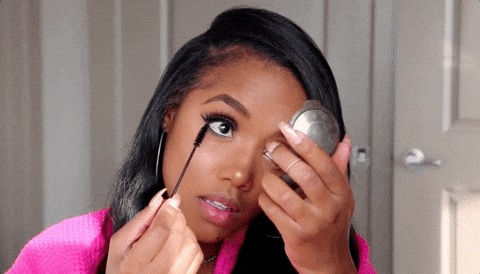 Lately, I've been testing out different brands to see who has the best lashes, hands down. Truth is, there are so many different brands out there that I can't just choose one. So this is will be a compilation of my favorite brands, styles, lengths, and looks. Get ready!
Bugatti by iikonn
Irresistible by Azeredo Cosmetics
It took me a while to find a lash I can wear on the daily that doesn't give me too much drama but still looks like I have on falsies. Enter: Irresistible by Azeredo Cosmetics. It's the perfect lash to wear for someone that doesn't want too much, and yet, it still gives you just enough. The band on the lash is super flexible and for $9.99, you can take these lashes from day time in the office to a night out on the town.
Jade by Huda Beauty
Huda Beauty isn't as accessible in my home town so when I received the Jade lash in my Ipsy bag over the summer, I lost my shizz. The Sephora here, in Shreveport, Louisiana is inside JC Penny so they don't get everything the big stores do. They have Huda Beauty in store but it's only the liquid lipsticks and eyeshadow palettes, and I'm totally that shopper that has to see it and feel it before I purchase it. Which makes these lashes a prized possession at the moment. What I love most about this lash is how separated the lashes are. They alternate from long to short, which makes your eyes look larger. I love my almond shaped eyes but I also look sleepy a lot. I've only worn them a few times, I love how awake I look when I do. These lashes retail for $23 and because they can be purchased at multiple outlets, I won't link them.
Bad and Boujee by iikonn
Yet another of my favs from iikonn, Bad and Boujee is their take on the Summer 2017 hit by Migos. I sure feel bad and boujee when I wear them too. Hunni, this double stacked lash will help lift your spirit if you're feeling down. Caution, this lash is only for the lash professional. If you aren't use to wearing lashes, this lash is not for you. Just a fair warning. However, if you are the trained in the arts of serving life, this lash will definitely take you to the next level. iikonn retails them for $27 but to take off some the sting, use my discount code, Phoenix101 to take off 30%.
Peony by Glowing Cosmetics
Glowing Cosmetics has become one of my favorite indie brands. I reviewed their highlighters a long while back and I'm completely in love with them. Their lashes rival any large company and at $15.99, why wouldn't you want to give them ALL of your money??? I've gotten at least 20 wears out of these lashes, so that proves they're durable AF, with proper care of course. No lie, they are legit sis! I purchased these lashes back in April and though I haven't worn them in a minute, they still have their shape.
I know my current obsessions are usually one product at a time but I can't choose just one style of lash. When you find a way to choose your fav, let me know what support group you attend so I can sign up. But really, thank you for tuning in to yet another one of my posts. I know they've gotten scarce the last few months but a soon as school becomes easy, which I don't foresee, I'll start posting more often. Anyways, links for these lash brands can be found above, unless it's sold in multiple outlets. Otherwise, be sure to support small businesses because they need us to stay afloat. Comment below your favorite lash, whether I posted it or not. Until next time...
Phoenix